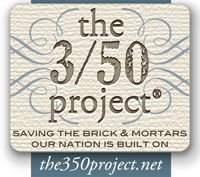 We first heard of the 3/50 project about two months ago and were really taken with the simplicity of the concept and the gravity of its implications. Basically, it asks you to imagine 3 local businesses that you would be saddened to see close their doors. Then, it asks you to commit to spending at least $50 a month total at local businesses.
If you and everyone you knew and everyone they knew were to shop this way, the economic impact starts to really add up. For every $100 spent in local businesses, $68 stays within the community by way of payroll, taxes, and other expenditures. When that same $100 is spent in national chain stores, just $43 stays in the local community.
Click on the picture above to go their site and learn more. Then SHOP LOCALLY!